Regular price
$808.00 USD
Regular price
Sale price
$808.00 USD
Unit price
per
Sale
Sold out
This Kenton manufactured lab drying oven include the technology for preheating cavities Microcomputer control system; forced convection system using air ducts. Insulation technology, temperature homogeneity, and intelligent numerical display.
Basic auxiliary equipment for laboratories and research units, it is widely employed in the fields of drying, sterilization, heated storage, and heat treatment, among others.
Capable of withstanding a range of temperatures, it will offer a steady temperature along with thermal insulation to guarantee the experiment's smooth progression and the sample's cultivation.
Product introduction:
● ALLHEAT™ is an advanced cavity preheating technology that uses heating elements evenly distributed around the inner chamber to pre-heat the cavity inner wall. Then, through heat transfer and forced-fan convection, the cavity temperature of every point can accurately achieve and maintain setting value, ensuring uniform cavity temperature distribution. 
● By using ALLHEAT™ series products, customers can reduce costs because of the uniform distribution of heat and low energy consumption, which prevents heat loss.
● ALLFLOW™ - Ideal Air Current Circulation
● ALLFLOW™ air current cycling: ideal for convection, with the shortest temperature recovery period following opening. An optimum outcome of sample cultivation is ensured by a sensible air input and outlet duct design and an internationally renowned finned motor (high durability, low maintenance).
● ALLFLOW™ air current cycling: maintain steady and constant temperature. The fan switch function allows for the adjustment of wind speed, ensuring the ideal atmosphere for sample culture.
Technical Parameters:
| | | | |
| --- | --- | --- | --- |
|  Model | GX-40 | GX-70 | GX-130 |
| Convection Mode | Forced Convection | Forced Convection | Forced Convection |
| Control System | Microprocessor PID | Microprocessor PID | Microprocessor PID |
| Temp. Range (℃) | RT+5℃~250℃ | RT+5℃~250℃ | RT+5℃~250℃ |
| Temp. Accuracy(℃) | 0.1 | 0.1 | 0.1 |
| Temp. Fluctuation(℃) | ±0.5(in the of range 50~240℃) | ±0.5(in the of range 50~240℃) | ±0.5(in the of range 50~240℃) |
| Temp. Uniformity | 2%(in the of range 50~240℃) | 2%(in the of range 50~240℃) | 2%(in the of range 50~240℃) |
| Timer Range | 0~99h,or 0~9999min,can be choose | 0~99h,or 0~9999min,can be choose | 0~99h,or 0~9999min,can be choose |
| Working environment | Ambient temperature:10~30℃, Humidity<70% | Ambient temperature:10~30℃, Humidity<70% | Ambient temperature:10~30℃, Humidity<70% |
| Insulation materials | Imported environmental protection type material | Imported environmental protection type material | Imported environmental protection type material |
| External Dimensions(mm) (H×W×T) | 570×580×593 | 670×680×593 | 770×780×693 |
| Interior Volume(L) | 40 | 70 | 130 |
| Interior steel materials | SUS304 stainless steel inner | SUS304 stainless steel inner | SUS304 stainless steel inner |
| The number of standard tray | 2 | 2 | 2 |
| Power(W) | 770 | 970 | 1270 |
| Supply voltage | 220V/50Hz | 220V/50Hz | 220V/50Hz |
| Net weight(KG) | 40 | 48 | 65 |
| Shipping weight(KG) | 43 | 51 | 69 |
| Packing size(mm) (H×W×T) | 690×660×680 | 790×760×680 | 890×860×780 |
Share
View full details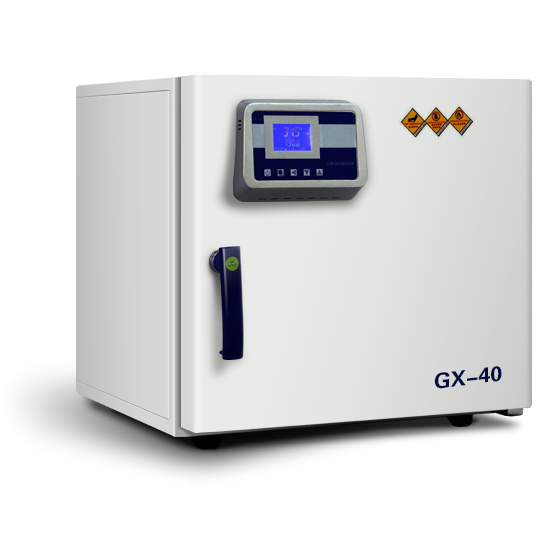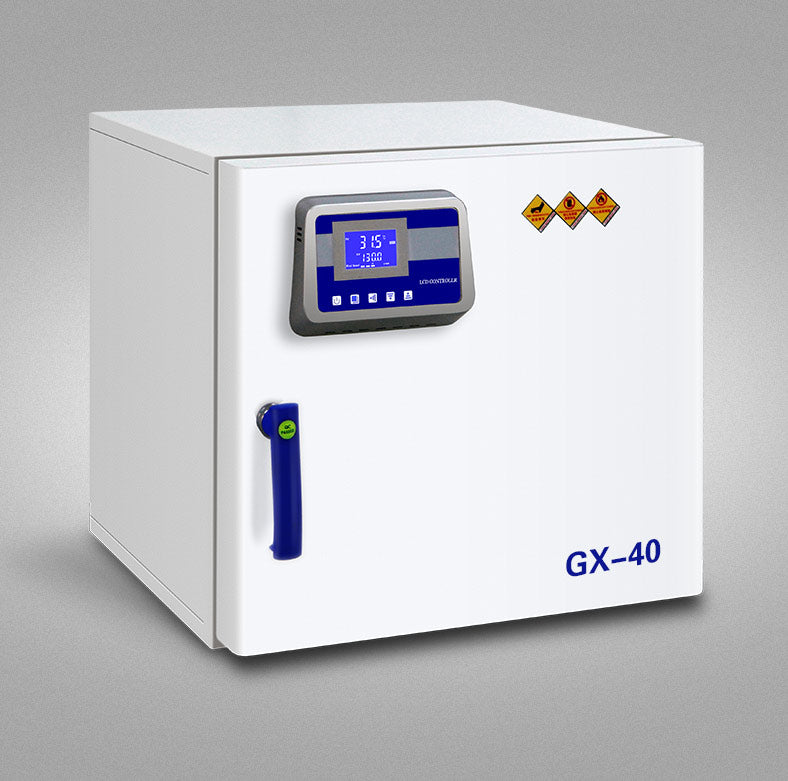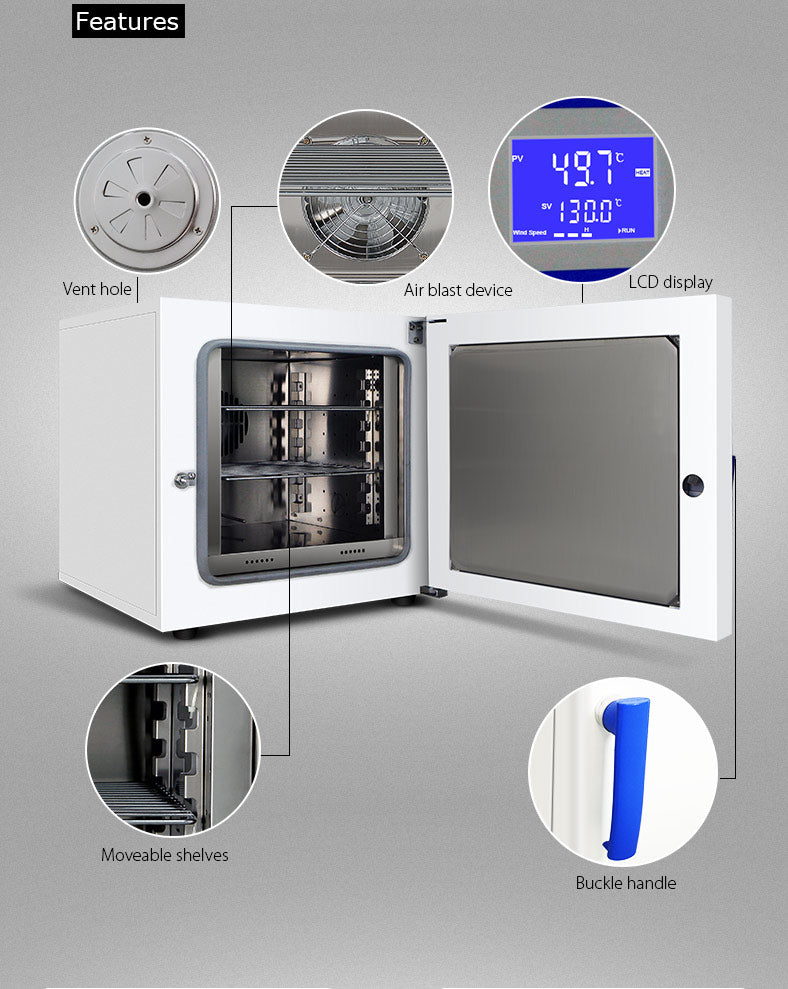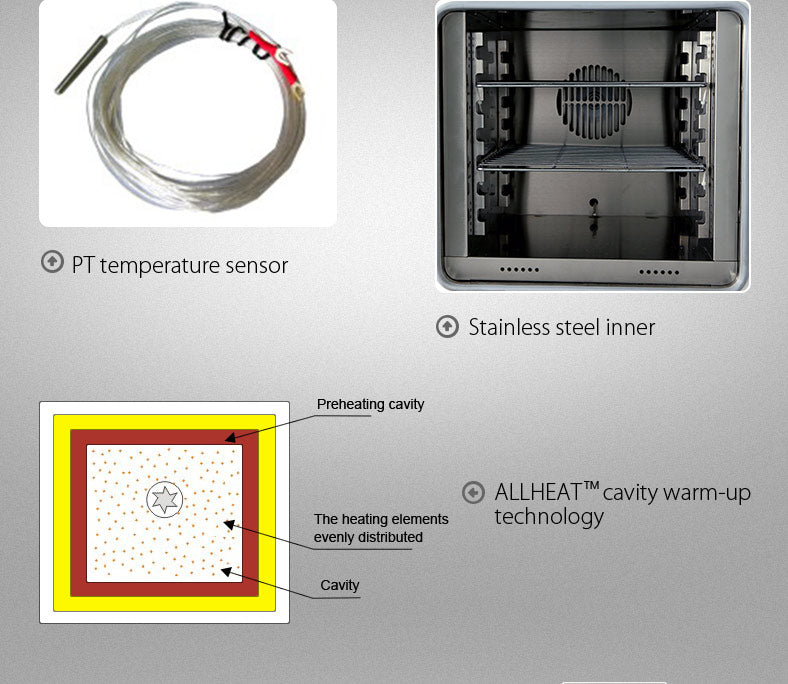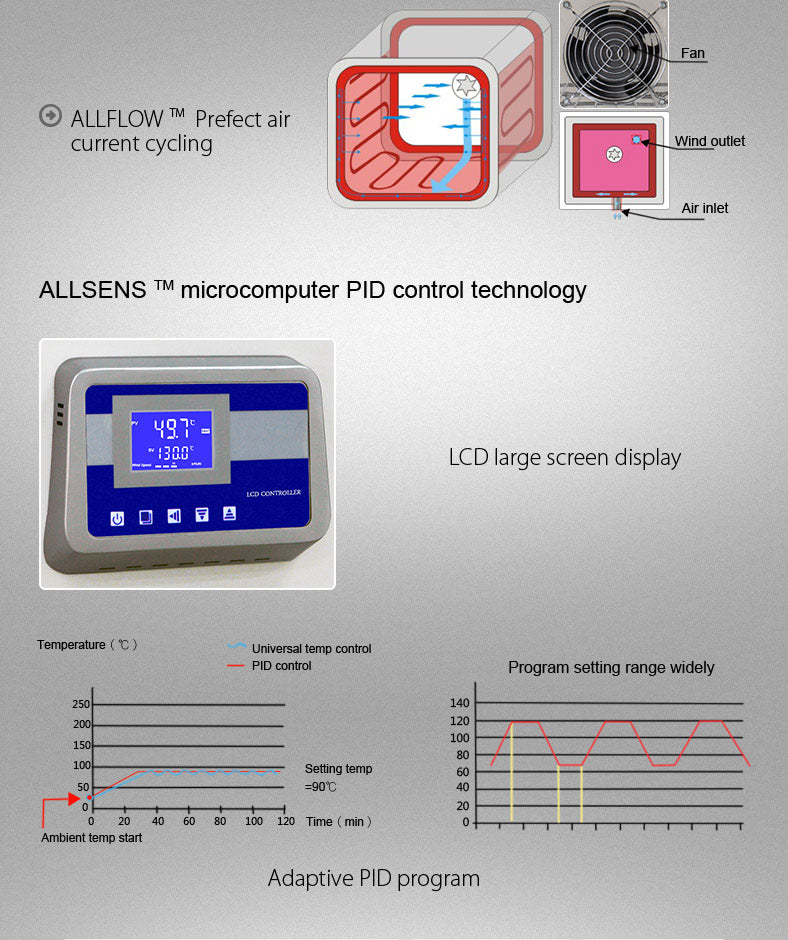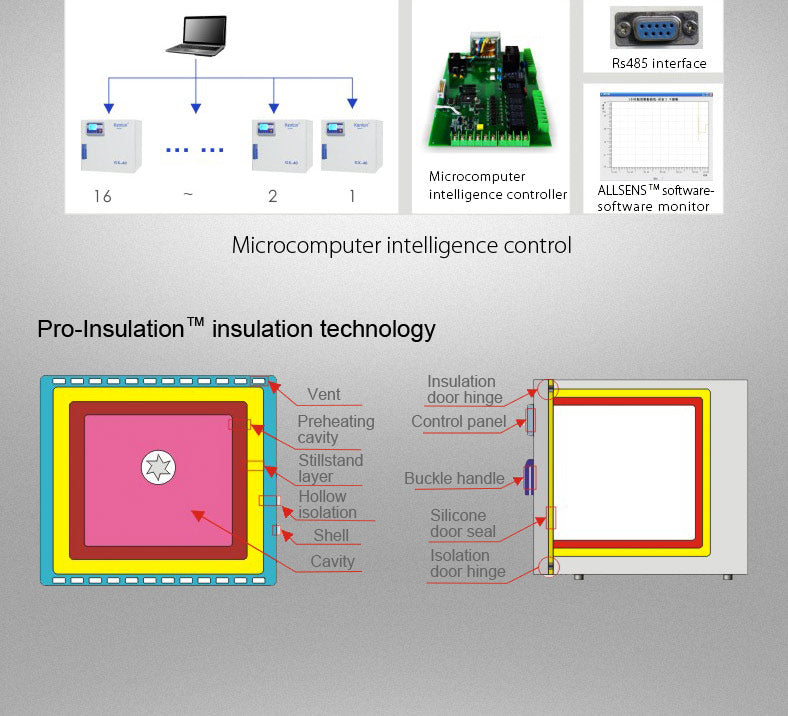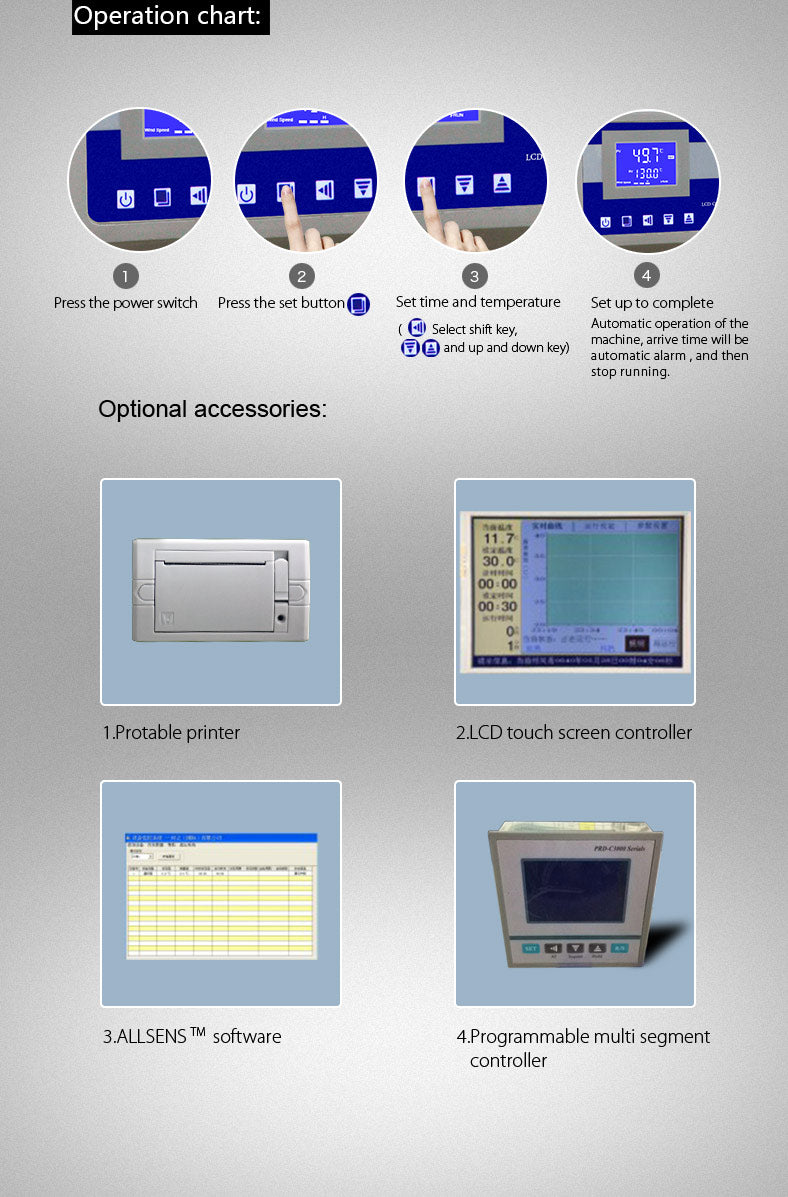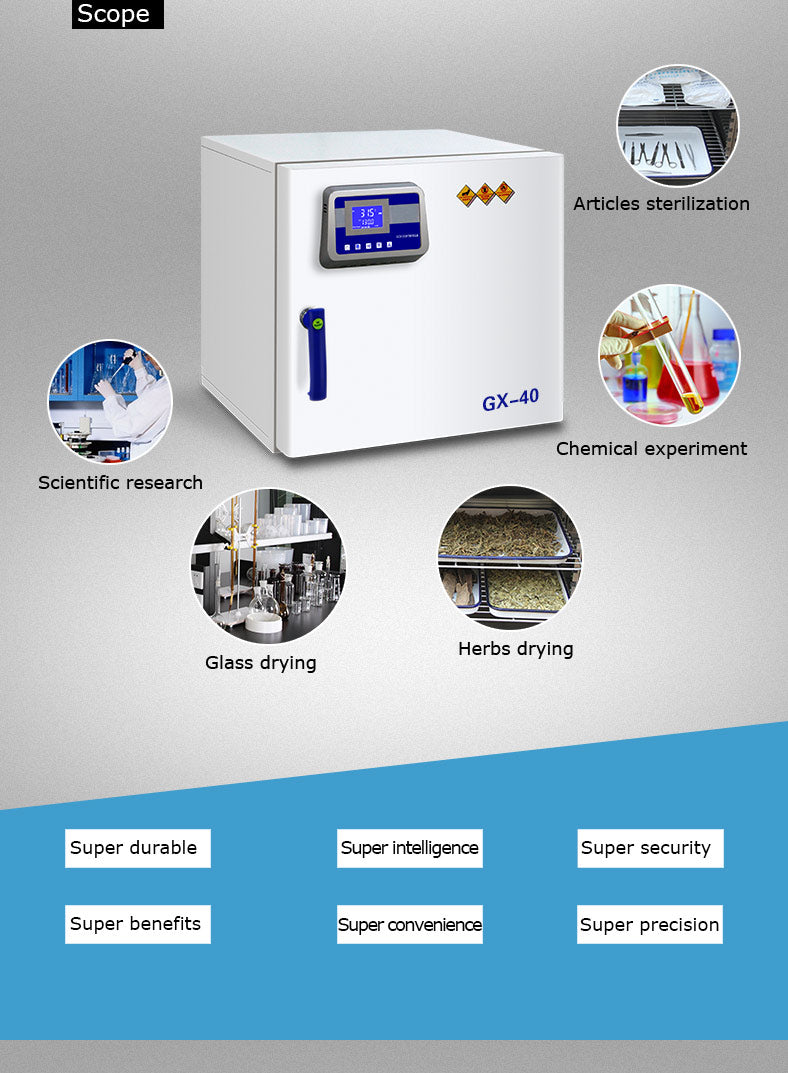 Get help with product selection and ordering